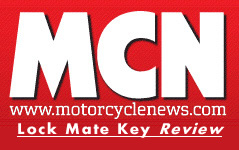 Disc Lock Reminder Review
If you're a regular commuter and use a disc lock often you'll know how easy it is to forget about it unless you have.......read more!
Ade-Leeds UK


Absolutely brilliant idea! Decided to purchase after trying to ride off with my disc lock on (an expensive mistake had I not realised at the last second).
The reminder key is such a simple idea but totally works .No more worries about costly repairs or looking like an idiot! Buy one now-there really is no reason not to!

Tim from UK


This is an excellent product, a lot better than having a wire attached from the disc lock to the handlebars and fits on your key ring too. Disc locks are a must these days, but they are small and you can easily forget you have put it on, driving 0ff- falling off and doing harm to yourself and the bike.
Save yourself the embarrassment and money in repairs. This product is highly recommended. I bought mine direct from the website, but they also have a shop on ebay.
Great communication and fast friendly service. WHAT YOU WAITING FOR????????????? GET ONE NOW !!!!!!!!!.
Richie from Ireland


Purchased mine several months ago and I am delighted with it.  Inexpensive and it relies on a very simple principle, so it has to work! It only has to work once to save you several hundred fold the purchase price in damages. 12 out of 10 for customer service too - cheers!
Keith from Birmingham, UK


All i can say is this is great, i have dropped my bike due to forgetting my disk lock was on as the reminder cable had dropped off. Not any more..
Dave from Kent UK


I found this product very useful as many times i have had the fluorescent cable attached to my disc lock and still nearly forgot it when in a hurry to get out......At least now I am more aware and I don't forget the lock before I put the key to the ignition, and it looks the part to, I got the chrome ones and very smart they are to, goes with all the other 'bling' bits I have on my bikes .....I've had some brilliant and quick feedback from Lock Mate too, it does what it says on the Key!

Ian from Manchester, UK


The chrome ones look slick........looks great on my Harley.
Levi from Auckland, New Zealand


I love this gadget! After using my Lockmatekey for several weeks i somehow stupidly managed to lose it and the very next day tried to ride off with my Abu's lock still attached to the disc of my Triumph. Can't live without it now, great invention!.

Mike from Newcastle, UK


A great, simple bit of kit ! It's cheap and really works. It saved me money yesterday as it stopped me riding off just in time. No more expensive repairs incurred. AAAAAAA +

Paul from Kansas, USA


These keys are cool dude, I spent over $500 fixing up my bike pulling out of a diner a year ago and trying
to be cool at the same time, guess what, I'm there lying on the ground and everyone laughing. Wish I had it a year ago!

Wayne from Texas, USA


Twice I've done my caliper, not now not with this baby