100% Fool Proof!

Stops you putting your bike key in.
Saving… riding off with your disc lock still on
Saving… possibly HUNDREDS of pounds
Saving… your 'Bikers Pride'
This handy motorcycle accessory will fit all standard slot ignitions. When you are riding, the reminder locks into your key fob, attached to your bike keys. On selected items Buy 1 Get 1 Free! plus P&P.
Lock Mate Key disc lock reminder would make a great addition to your motorcycle accessories and pay for itself many times over.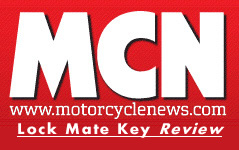 Read Review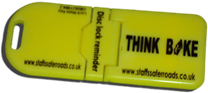 CEO's are always looking for innovative ideas to promote their company profile.
Lock Mate Key disc lock reminders can brand your company around your logo and colours, read our testimonials!
Millions of bikers around the world use some sort of anti-thief device, mainly a chain or a disc lock and nearly every biker has a story to tell of themselves or a friend who has driven off with the device still attached.
This reminder fits all standard lock ignitions and a great motorcycle accessory.
All enquiries welcome!