100% Fool Proof!
Stops you putting your bike key in.
As a result… prevents you riding off with your disc lock still attached!
Saving… possibly HUNDREDS of pounds worth of damage!
Certainly Keeps… your 'Bikers Pride' intact and most importantly stops you getting injured!
Furthermore these handy motorcycle accessories will fit all standard slot ignitions also on Scooters.
When you are riding, the reminder locks into your key fob, attached to your bike keys.!
Finally, Lock Mate Key disc lock reminder key would make a great addition to your motorcycle accessories and above all pay for itself many times over.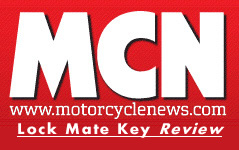 Read Review